I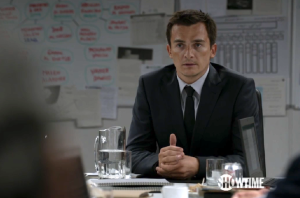 am always struck by those moments where something completely unrelated to my work serves up a powerful metaphor or analogy for a particular challenge or opportunity I am observing in my industry, agriculture. Case in point, the Season 5 opener of Homeland. In what turns out to be a gripping scene (for me, at least) Peter Quinn, the elite CIA black-ops agent, has been called back to Washington, after two years on the ground in Syria, to be grilled by CIA senior management. Peter is the best of the best. If he were an account manager, he is the guy you would like everyone on your sales team to be more like. But, despite his skill and his will, the mission in Syria is not going well and CIA "top brass" want answers.
The most senior CIA "executive" at the table is particularly flustered with the apparent lack of results. He listens to Peter's update on the situation then erupts. "What the hell is going on over there?" he barks, "I honestly can't tell …is our strategy working?"
Hiding his own frustration, Peter faces the senior executive who is, no doubt, the boss of his boss's boss, and says calmly, "What strategy? You tell me what the strategy is and I will tell you if it is working."
The room goes silent. No one around the table can answer Peter's question.
That scene really hit me because, out of nowhere, it summed up one of the most pervasive challenges in agribusinesses today: "what is the strategy?" Our observations confirm that it does not matter what kind agribusiness you are: a multinational manufacturer, a line company, a distributor, an independent dealer… chances are extremely high (and I mean extremely) that your people DO NOT know what your strategy is.
And here is the hardest thing for any of us in this situation to accept: if they don't know what your strategy is, then you don't have one… regardless of what you might think.
This is where so many of us get off course: goals and targets are not the strategy. Discount programs are not the strategy. Program-driven sales activities are not the strategy, nor is coordinating sales activities with digital media… the strategy.
Your strategy is your "play book" that helps everyone in your organization understand what the goals are and how you will create differentiated value for your customers in order to achieve those goals. Like any good "play book", your strategy helps your people understand how key processes and resources will be applied within the business to create that differentiated customer value and what people need to be doing in order to contribute to achieving the goals. Finally, your strategy shows your people what is being measured so they can self-determine how to align their actions and contributions, best, to the organization achieving its goals.
What is your strategy? Start by asking these questions…
Are our goals clear?
What is our customer value proposition?
Is it meaningfully different from our competitors?
What does our organization do really well?
Can that be leveraged to create more customer value?